With my growing collection of polishes and associated paraphenalia, I've had to upgrade my storage options!  Up until now I've been using a Helmer to store everything – using one drawer for my "essentials", three for polish, one for nail art supplies and one for spare supplies (backup nail polish remover etc).  While my three polish drawers weren't overflowing, I was running out of space to keep them divided into salon vs. drugstore brands.  I was also getting frustrated because I used shallow plastic trays to organise my nail art and essentials and they were extremely difficult to get in and out of the Helmer drawers because the drawers are shallow themselves.  I would pull out my essentials tray every time I wanted to paint my nails and everything else would fall over so I ended up never putting it away.
So what's my answer?  A set of Ikea Moppe drawers.  They don't seem to be listed on the Ikea website here in Australia but there were 3 different configurations – I think this one set me back $40 but it is preassembled which makes a nice change for Ikea wares.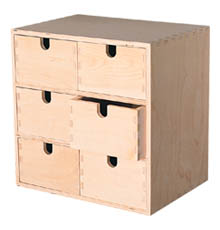 The drawers are just a tiny bit shallower than the Helmer drawers and hold polish easily (the only thing I couldn't stand up that stood up in my Helmer was mini OPI Avojuice bottles).  So I've moved all my essentials and nail art supplies into here, opening up five of my drawers in my Helmer for my polish.  Not happy to stop there, I then went on to decorate my drawers with some scrapbooking paper and sticky letters (also designed for scrapbooking), and here is how it looks now:
Here is how I've divided everything up:
Drawer 1 – Essentials
I have cut down a couple of nail polish boxes to hold most of my small items – nail clippers, scissors, toe separators, top coat, base coat, cuticle remover etc.  Then there is space for my nail polish remover, nail file and buffer around the edge.  There are also a couple of spare spots that I can put polishes in so I can just grab this drawer and have everything I need to paint my nails.
Drawer 2 – Top Coats and Base Coat
These used to live with my essentials and would be the items that would fall over every time I opened that drawer.  Now they have their own little drawer to live in.  I really need to start using some of these up, but instead I keep buying new ones to try.  These are all left over from when I was trying to find the perfect combination (which I've settled on being Nail Tek Foundation II and Nubar Diamont/Seche Vite).
Drawer 3 – Treatments
I've got all my OPI Avojuices and my Lush Tiny Hands Serum Bar, plus both my bottles of OPI Drip Dry, Lacquer Thinner and Seche Restore in here.
Drawer 4 – Stamp(ing) Polishes – I couldn't fit in all the letters on this drawer!
I keep all my Konad brand polishes, plus any nail art/striper polishes I have in here.  Again these used to fall over every time I opened my nail art drawer in the Helmer but now they have a smaller drawer to contain them they stay upright.
Drawer 5 – Nail Art
All my Konad/Bundle Monster plates, some rhinestones and decals and a roll of Scotch Magic Tape for if I ever get round to trying tape manis again.
Drawer 6 – Untried
As I had one drawer left spare I decided it was a good space to stash my untrieds in.  In theory I can't hold too many polishes in there so it should limit how many I buy when I already have untrieds to work through.  As you can see it's quite full right now.  Need to get some swatching done.
You can see in this photo that the drawers sit quite nicely on top of my Helmer (they're just a few cms wider) and I've dumped some other items on top including my bottle of acetone that leaks if I lay it down, a tumbler of swatchicles to be used and all my nail art brushes, dotting tools and manicure sticks. (oh yes, they're my beautiful new shoes sitting next to my Helmer – cannot wait to wear them out).